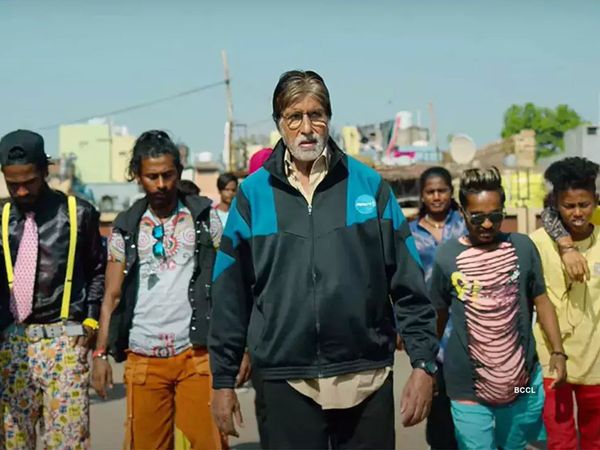 Jhund Movie&nbsp
Headlines
Jhund movie is releasing on March 4.
Amitabh Bachchan is in the lead role in the film.
Amitabh Bachchan is playing the role of a football coach in the film.
Jhund Review in Hindi: The Marathi film Sairat, which came in the year 2016, broke all the records of earning. After five years, the director of the film Nagraj Manjule has once again brought such a powerful story. Where the starcast of Sairat is seen in the film. At the same time, this time he has got together with Amitabh Bachchan, the megastar of the century. Jhund is scheduled to release on March 4, 2022. Read this review before watching the movie.
It is based on the real life character Vijay Burse, who has founded a football association for the betterment of slum children. Director Nagraj Manjule is known for his secretive and emotional characters in his story. Even in his Bollywood debut, he has established it from the first frame. The film begins with the daily struggle of children living in the slums of Nagpur, who are involved in many criminal activities. Many of these children are drug addicts who have no goals in life. In such a situation, one day sports coach Vijay Borde (Amitabh Bachchan) enters the lives of these children. Vijay Borde changes the lives of these slum children through his marriage, Vishwas. That not only makes him a good person but also makes him a good football player.
Also Read: Jhund Trailer: Amitabh Bachchan will change the fate of slum children with football, Jhund trailer released
acting
Jhuggi Jhopri's journey to become an international player will make you emotional as well as make you swoon with joy. Many scenes before the special interval will remind you of Shahrukh Khan's film Chak De India. Nagraj Manjula has given a trademark touch to the film, which has been seen in his Marathi films earlier. On the other hand, when it comes to acting, Amitabh Bachchan has played his complex but strong character Vijay Borde very well. Be it his chemistry with the slum kids in the beginning or the long monologues in the film's climax, Amitabh Bachchan keeps you hooked every moment. At the same time, among the children living in the slum, Ankush Gendam has impressed the most with his performance.
what to watch movie
The music of the film is given by Ajayriyatul and the background music of Saket Kanetkar is the biggest highlight of the film. However, talking about the shortcoming of the film, the duration of the film is around three hours, which is excessively long.
The film needed some editing. Despite this, Nagraj Manjule has also hidden this shortcoming with his brilliant story. Jhund is one of those films that will take the audience to the theaters with its content, visual treat and stellar performances from the star cast.