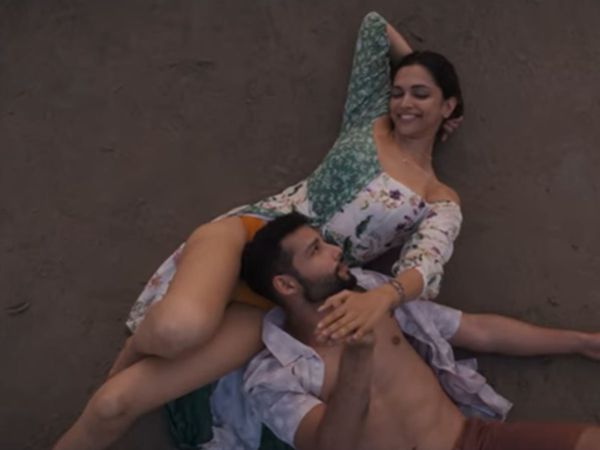 Gehraiyaan Movie Review in Hindi&nbsp
Headlines
This film trailer and songs have been in the news since its release.
The film has got an 'A' ie 'Adults Only' certificate from the censors.
Gehraiyaan Movie Review in Hindi: Deepika Padukone's film Gehraiyaan has been released. This film trailer and songs have been in the news since its release. Apart from Deepika, Ananya Panday, Siddhant Chaturvedi and Dhairya Karwa have been seen. Due to the bold scenes between Deepika and Siddhant, the film has got an 'A' ie 'Adults Only' certificate from the Fans Central Board of Film Certification. The film is full of kissing and intimate scenes of Deepika Padukone and Siddhant Chaturvedi. Deepika Padukone was in a lot of controversy due to giving intimate scenes with an actor who is almost 8 years younger than her.
Now coming to the story. The story is exactly the story of today's generation. When do we break away from the one we love? Relationships have no dignity in today's society. Despite everything, in the desire to get something else, they waste their lives. The story of Gahriyaan revolves around Alisha Khanna (Deepika Padukone), Tia Khanna (Ananya Pandey), Zain (Siddhant Chaturvedi) and Karan Arora (Ghaiya Karva). Alisha and Tia are cousin sisters. Tia and Zain date each other and Alisha is in a relationship with Karan.
Also Read: Gehraiyaan song Beqaaboo: Deepika and Siddhant became uncontrollable in the new song of Gehraiyaan, crossed the limits of romance
Tia and Zain come to Mumbai from America. Both are billionaires. Jain has a real-estate business and has a project worth hundreds of crores in Alibaug. Whereas Alisha is always sad and works more to earn more. On the other hand, Karan is a flop-jobless writer sitting at home. After returning from America, Tia introduces her cousin Alisha and her boyfriend Karan to her boyfriend Zain. Everyone meets in Alibaug and has a lot of fun. Zain and Alisha get closer to each other, due to which there are problems in the relationship between Tia-Jain and Karan-Alisha.
The story of the film is the story of a new generation. In other words, it can be said that this is the story of the people of the big city. Dipika and Siddhant Chaturvedi's kisses, hugs and intimate moments try to create excitement in the audience but the lack of logic in the story leads to boredom. Deepika Padukone has once again proved that she is the best. Naseeruddin Shah and Rajat Kapoor's character is small but brilliant.
Some of the dialogues of the film are very good, yet the writers neither brought any life to the characters nor did they create any interest in the story. Siddhant Chaturvedi is very disappointed. Ananya was nowhere to be seen effective. In future this film will be remembered only for Deepika. The film has been shot well by Shakul Batra. The songs and camera work is great.