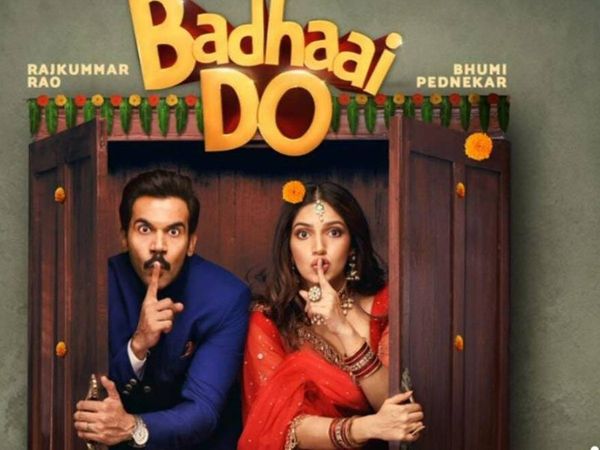 Badhai Do&nbsp
Headlines
Rajkummar Rao, Bhumi Pednekar's film Badhaai Do has been released on 11 February.
Badhaai Do is the sequel to the 2018 film Badhaai Ho.
The film stars Rajkummar Rao and Bhumi Pednekar in lead roles.
Badhai Do Movie ReviewDue to the third wave of Corona, many big films have postponed their release dates. At the same time, many are turning to OTT platforms. Now after opening the theater, Rajkumar Rao and Bhumi Pednekar's film Badhaai Do has been released on 11 February. The film is a sequel to the 2018 National Award winning film Badhaai Ho. Badhaai Ho's story was based on old age pregnancy. At the same time, Badhaai talks about the challenge of gay and lesbian characters in Do.
Story (Badhai Do Plot)
Sumi (Bhumi Pednekar) is a PT teacher and Shardul (Rajkumar Rao) a police officer apart from both identifying that they are gay. Both belong to such families of Uttarakhand, where they cannot openly express their sexuality in the society. Both their families are pressurizing them for marriage. In the end, both agree to the marriage. However, it is a consummated marriage. However, both will spend their life with the partner of their choice under the guise of marriage. Shardul grooms Sumi and the wedding takes place, but the family members pressurize her to have children. Now will Sumi and Shardul be able to bring out their truth by breaking the chakravyuh of the society, if yes, then you will have to watch the film to know how.
Also Read: From Gahriyaan to Raktanchal 2, these films and web series will be released this week
Acting and Direction
The acting of Rajkumar Rao and Bhumi Pednekar is the main attraction of the film. In gay characters, both proved why they are counted among the most talented actors of this generation. Talking about the supporting cast of the film, Bhumi's partner Chum Darang has given a great performance in the romantic scene. At the same time, Gulshan Devaiah, partner of Rajkumar Rao is a surprise package of this film. At the same time, Seema Pahwa, Nitesh Pandey, Sheeba Chaddha and Lovleen Mishra have taken the story of the film forward.
Badhaai Ho was directed by Amit Ravindranath Sharma. Badhaai Do is directed by Harshvardhan Kulkarni. Badhaai Ho writer Akshat Ghildiyal has written the story of the film along with Suman Adhikari and Harshvardhan Kulkarni. The director has shown the thinking of the middle class family in a very quirky way through the film. The story of the film progresses slowly but, as it progresses, many mysteries start getting resolved.
why watch the movie
There have been many Bollywood movies and web series related to LGBT issues. But, congratulations where on one hand it breaks the stereotype of the society. At the same time, laughing and laughing also gives a new perspective to this issue. Apart from this, it tries to integrate homosexuality into the mainstream.