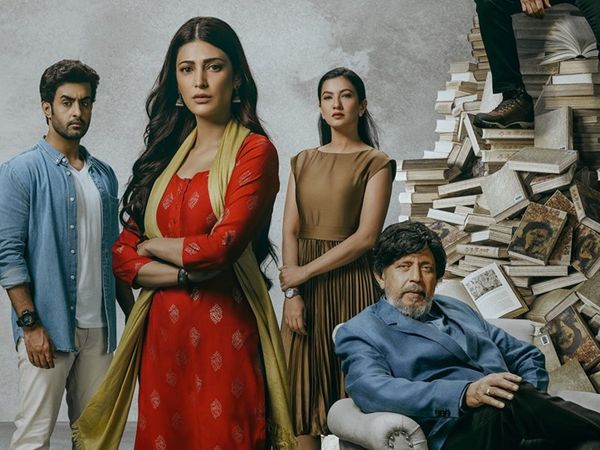 Web series Best Seller Review in Hindi&nbsp
Headlines
The webseries bestseller has been released on Amazon Prime Video.
With this series, Bollywood actor Mithun Chakraborty has made his debut on OTT.
Arjan Bajwa and Shruti Haasan are in the lead role in this series.
Web series Best Seller Review in Hindi : The webseries bestseller has been released on Amazon Prime Video. This series was in discussion for a long time. Bollywood actor Mithun Chakraborty has made his OTT debut with this psychological thriller suspense and drama. Mithun Chakraborty is in the role of Assistant Police Commissioner in this series. The bestseller directed by Mukul Abhyankar features an army of illustrious stars like Shruti Haasan, Arjan Bajwa, Gauahar Khan, Satyajit Dubey and Sonali Kulkarni apart from Mithun Chakraborty. Till the time this webseries was not premiered, the fans thought that Mithun Chakraborty's story is but now it is understood that this story is basically of Arjan Bajwa and Shruti Haasan.
The story has a writer named Tahir Wazir. People around him are targeted and killed. The bestseller is based on the famous English novelist Ravindra Subramanian's novel 'The Bestseller She Wrote'. Althea Kaushal and Anvita Dutt have done the work of molding it from pages to screen. This is such a thriller of eight episodes which slowly picks up the speed and opens all the suspense at a time. After that, even if you do not watch it, then you will get an idea of ​​its climax.
Also Read: Trailer release of Sumeet Vyas's 'Jugadistan', a story based on love, friendship and politics
Mumbai-based novelist Tahir Wazir (Arjan Bajwa) is troubled that the story of the next book is not coming to his mind. In writing language, this condition is called writers block. For ten years he is waiting for the second story but he is not able to write. One day he meets a fan named Mitu Mathur (Shruti Haasan). Mitu, who comes from a small town, tells that she is influenced by Tahir and wants to be like him. Meetu narrates a story of hers to Tahir and in the meantime something happens that Tahir gets interested in the things that happened in Meetu's personal life.
Tahir's mind starts working. He sees masala in many incidents in Mitu's life but gets entangled in it. The layers of the past unfold. The series is serious, in which there is no place for comedy. Yet in many places the makers have done ridiculous things. Tahir gets laughed when the publisher pays crores of royalty to Tahir for his next Hindi novel. A lot of changes have been made to bring the story from the pages to the screen. Still, the makers could not do any miracle. The series is worth watching but could have been made better.
Mithun Chakraborty arrives late as an assistant police commissioner on the verge of retirement but is overshadowed by his arrival. He also makes the audience smile with his quirky style. Arjan Bajwa and Shruti Haasan have played their roles with perfection. Gauahar Khan, Satyajit Dubey have also done a good job. You will have to watch this series to know why the incidents happen with Tahir Wazir, is Meetu Mathur meeting him a coincidence or a conspiracy.