Are you looking for a step-by-step guide on how to register in Hotstar app? You've come to the right place! In this blog post, we will walk you through the process of Hotstar download, how to register in Hotstar app, and how to log in on Hotstar as well.
Hotstar is an Indian video streaming and OTT platform that offers movies, shows, live news, sports, and more. This app is available for Android and iOS devices, and it allows you to watch content from Star India (including STAR Plus, Star Bharat, Star Maa, Asianet, Vijay TV, and more).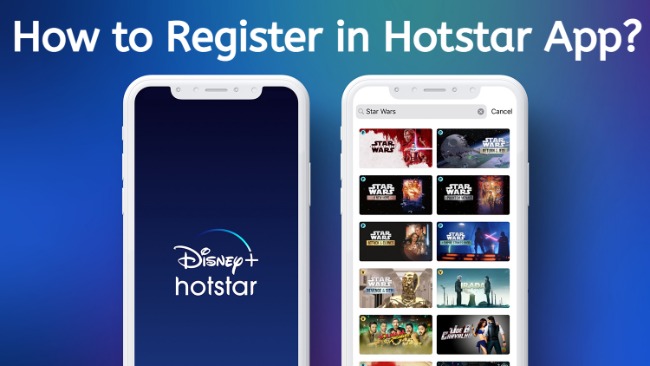 In this article, we will provide a step-by-step guide on how to register in Hotstar app. We will also show you how to log in to your account and watch your favorite shows and movies. Let's get started!
How to Register in Hotstar App
Hotstar is a subscription-based service, and you will need to create an account before you can start watching your favorite shows. If you want to get started with Hotstar, you have to register first. If you don't know how to register in Hotstar app, follow these steps:
Go to the Hotstar website or download the app on your mobile device.
Click on the "Subscribe" button and select a subscription plan.
Enter your email address and create a password or enter your mobile number and authenticate it with an OTP.
Now, you have to make the payment for the subscription plan you have chosen.
You can make the payment via credit card, debit card, wallet, or UPI.
Once you have finished the payment, you have successfully subscribed or registered on the Hotstar application. Also, know how to do Hotstar app download for PC.
How to Login on Hotstar
If you have already subscribed to Hotstar and now want to log in, follow the steps given below:
Open the Hotstar app or website on your device.
Enter your registered email address or mobile number in the login section.
Enter your password or OTP and click on the "Login" button.
If you are using a mobile device, you will be asked to enter an OTP that will be sent to your mobile number. You can also log in with your Facebook or Google account by clicking on the "Login with Facebook" or "Login with Google" button.
How to Login on Hotstar on TV
If you want to log in on Hotstar on TV, then you have to get the activation code first. To do this, follow the steps given below:
Open Hotstar on your TV and select any video you want to watch.
A popup will appear on your TV screen with an activation code.
Now, go to the Hotstar code activation website on your mobile device and sign in using your Hotstar account details.
Then, enter the activation code and submit the code to log in on your TV.
Conclusion
We hope this article was helpful to know about how to register in Hotstar app and how to log in on Hotstar. Subscribe to Hotstar today and enjoy watching your favorite movies and shows. If you have any questions or suggestions, please let us know in the comments section below. Stay tuned to Hotstar App for more updates.