Do you want to watch your favorite shows and movies on Hotstar on Samsung Smart TV, but don't know how to download Hotstar app in Samsung Smart TV? Don't worry, we are here to help. In this blog post, we will show you how to download Hotstar app in Samsung Smart TV easily.
Hotstar, which has now become, Disney+Hotstar in India, is one of the most popular streaming platforms in the country. The platform offers a wide range of content, including movies, TV shows, live sports, and more.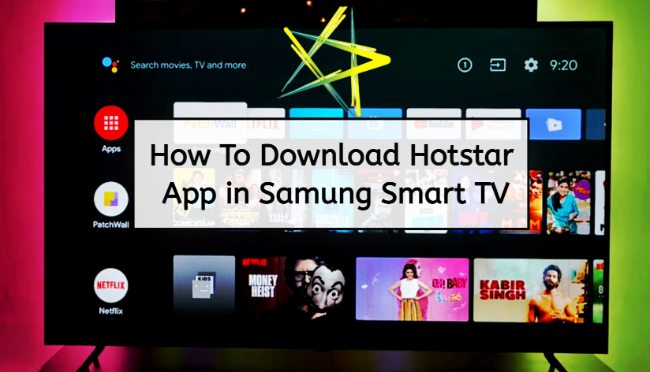 And with the Hotstar app, you can watch all this content on your Samsung Smart TV. The process is actually very simple and can be done in a few easy steps. Keep reading for more information!
How To Download Hotstar App in Samsung Smart TV
If you are a Samsung smart TV user, then you can easily download Hotstar app in Samsung smart TV from Samsung Store. Whether you have an old Samsung smart TV or the latest version, this procedure will work just fine to download Hotstar app in Samsung smart TV successfully.
Just follow these simple steps:
First, turn on the Samsung Smart TV and press the Home button on the remote.
Now, you have to go to the "Apps" section on the TV and search for "Hotstar".
Select "Hotstar" or "Disney+Hotstar" application from the search results and select "OK".
Next, select the "Install" button to start installing the app on your Samsung Smart TV.
Once the installation is complete, press "Open" to launch the app and enjoy watching your favorite content on Hotstar!
If you face any difficulty while following these steps or if you are not able to find the Hotstar app in Samsung Store, then don't worry. You can always sideload the app on your Samsung Smart TV. But, you won't need it in most cases.
How To Activate Hotstar App in Samsung Smart TV
If you want to watch your Hotstar content on your TV, then an activation procedure has to be followed. This need not be done when you are using Hotstar for PC or smartphone. Downloading and installing the app won't be enough for TV. Follow the simple steps below to activate the app on your TV:
Open the Hotstar app on your Samsung Smart TV and go to the "My Account" section.
Select "Activate Now". You will be given a code that you have to enter on Hotstar's official website.
Now, go to www.hotstar.com/activate on your web browser using a computer or smartphone.
Enter your mobile number and verify the OTP. Or provide your email ID and password to sign in to your Hotstar account.
Then, enter the Hotstar activation code on the website and click "Submit".
After that, you will be able to watch all the content on Hotstar without any issues.
Can I Watch Hotstar On TV Without Activation Code?
No, you cannot watch Hotstar on TV without an activation code. The activation code is necessary to verify your identity and ensure that you are a legitimate user. Without it, you will not be able to access any content on the app.
Conclusion
We hope this blog post was helpful and you were able to download Hotstar app in Samsung smart TV and activate the Hotstar app without any difficulty. If you have any questions or queries, then feel free to reach out to us in the comments section below. We would be happy to help! Follow Hotstarapp.live for more useful tutorials.